Details
Product Description
USB Adapter
The wireless USB adapter, with a removable antenna, is capable of transferring data at speeds up to 54Mbps and is fully compatible with 802.11b/g Wi-Fi standards. Transmit power is less than 15dBm and the operating range is between 30 to 300 meters, depending on the surrounding environment.
Product Features
includes a 2.4GHz Omnidirectional antenna that tilts and swivels
Data rates of up to 54Mbps
Operating range: 30 to 200m
Antenna
This compact 2.4GHz omni directional Wi-Fi antenna provides broad coverage and 3 dBi gain. It is a coaxial sleeve design with an omni-directional pattern.
This flexible antenna features a tilt-and-swivel reverse-polarity SMA connector, allowing them to be used vertically, at a right angle, or any angle in-between.
Product Specifications
Characteristic
Value
USB Adapter
Standard
IEEE802.11b/g
Frequency
2.4GHz
Data Rate
From 1 to 54Mbps
Transmitter Output Power
< 15dBm
Operating Range
30 to 200 m
I/O Interface
USB 2.0/1.1
Antenna
Frequency
2.4GHz
Radiation
Omni
Polarization
Vertical
Antenna Cover
Tpu
Color
Black
Resources
Drivers
The adapter driver is already loaded on the 1072 – PhidgetSBC. For more information, consult the User's Guide Section of the 1072 – Product Manual.
Should you want to use the adapter on your PC, download the following file:
Certification
Packaging:
The Wi-Fi comes packaged in a resealable plastic bag and includes:
A Wi-Fi dongle adapter
A SMA Antenna
A 300 mm USB Extender cable (Male A connector and Female A connector)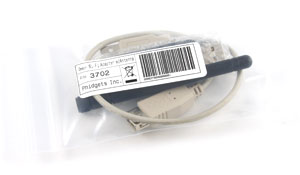 This adapter connects to:
Connect the antenna to the dongle using the SMA connector, and then plug the adapter into a USB port on the 1072 – PhidgetSBC2 using the Extender Cable.
Questions on 3702 - Wi-Fi USB Adapter w/SMA Antenna
No questions asked yet
Register
or
Login
to ask a question.
Related Products
USB WIFI MODULE WITH RTL8188CU