Dettagli
The thermocouple adapter lets you connect an Omega K-type Thermocouple with Miniature Male Connector to the:
1051 - PhidgetTemperatureSensor 1-Input
1048 - PhidgetTemperatureSensor 4-Input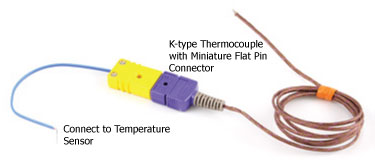 For more information on thermocouples,
visit the Thermocouple Primer.
Note: On the 1051, connect the white adapter wire to (-) terminal block and the Red wire to the + terminal block. On the 1048, connect the white wire to G and the red wire to input terminal block (numbered 0 to 3).
Product Features
Adapter for the Omega K-Type Miniature Male Connector Thermocouples.
Physical Properties
| | |
| --- | --- |
| Connector A | 6 mm Stripped Wire |
| Connector B | Miniature Omega K-Type Thermocouple Connector (Female) |
| Cable Length | 100 mm |
| Cable Gauge | 28 AWG |
| Insulation Material | Teflon |
Prodotti correlati